July 31, 2019 · by Scott Hohensinner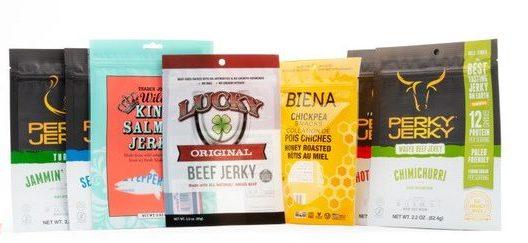 Founded in 2000, Yaxin produces high quality flexible packaging films and pouches along with state-of-the-art printing and graphics services. Because the company is based in both the U.S. and China, it offers unique benefits to clients in food processing, particularly snack food, frozen fruits and vegetables, seafood, and pet food. Summit spoke with Jenny Cavallucci, Yaxin's national sales manager in the U.S., about her 20 years of experience in packaging and printing, the advantages of having a presence in China and the U.S., and the future of flexible packaging.
Please elaborate on Yaxin's tagline: Serviced in America. Made in China. What does that mean?
Yaxin is different from most Chinese companies in two important ways: first, it's both an American and a Chinese company. Second, it's family owned. Our founder, Changfu Yang, lives in China and runs our operations there. His daughter, Jessica Yang, owns the U.S. operation. We have a factory located near the port of Qingdao Junan, in Shandong Province, and our U.S.-based company has offices in California and Oregon.
This means we're an importer and exporter, which allows our North American customers to buy direct without having to wire money to China or operate on Asian time zones. This saves our clients a lot of time, money, and frustration. In addition, our U.S. company carries all the necessary liability insurance, which is critical because we service major food processors worldwide. Finally, this structure allows us to offer much lower prices than our competitors. Most of our clients are small and medium-sized companies, and they save an average of 30-80% by working with us.
Another thing that sets us apart is our mission. Our founder opened the factory near his home village with the sole purpose of providing good paying jobs to the community, so he's committed to people as well as profits.
What are Yaxin's capabilities and specialties?
We manufacture and sell all types of flexible packaging, with pre-formed pouches a specialty. We also provide exceptional printing solutions using cutting-edge rotogravure presses capable of printing up to 10 colors or nine colors plus registered matte. Our team also offers consulting on artwork and packaging design services. This allows us to give clients the best packaging for their needs along with high-quality, imaginative graphics to help their products stand apart from the competition.
And since we work with major food processors and pet food manufacturers, our factory in China meets the highest U.S. and European Union regulatory requirements and certifications for food safety, print quality, and product reliability.
Everything we do is custom made, from bag thickness to the type of material used. We don't use anything off the shelf. We work closely with clients to design the perfect packaging for their product. Knowing what they need helps use create a recipe for the inner layer of the packaging, which we create in our own factory. The customization helps protect the product and improve shelf live. Sometimes clients aren't aware of all the options available, so we help educate them on that, too. For example, oily products require different inner layers than powdery products, and we get everything right, down to the smallest detail.
What is your relationship with Summit Packaging?
It's important to have strong local partners and distributors, and Summit's location in Washington state is ideal for our Northwest customers. Their team is very knowledgeable about equipment. Whether it's roll stock or pre-made pouches, our bags have to run on machines. Since Summit knows how to service and maintain the equipment our clients use, it helps us sell the right packaging to fit those machines.
Having someone that knows the equipment, knows our packaging, and understands our customers is a huge advantage. It helps us offer our clients better solutions for increasing run speeds, customizing packaging, troubleshooting equipment, and other issues. So working with Summit is great for us, and great for our clients. They are a valuable partner.
What are your thoughts on the future of flexible packaging?
Flexible packaging is growing steadily, and I expect that to continue because it is so efficient. It still has the lowest carbon footprint among packaging options. Flat pouches require less energy and fewer resources to make, and take up less shipping space, compared with cans, glass jars, rigid containers, and many other types of packaging. Plus, they extend shelf life, which decreases food waste. So the demand will continue to grow. I know many places are moving away from single use grocery bags, but flexible packaging isn't going away.
I also think we'll see big changes in recycling. Right now, everything Yaxin makes can be recycled. Everything. The problem is the recycling industry hasn't caught up yet, though it's slowly getting there. China used to buy recycled products from the U.S., but now they have their own domestic demands for it, and the U.S. recycling industry is adjusting to that. The packaging industry is also getting more involved in taking on recycling issues.
We are also seeing increased customer demand for sustainable packaging. This includes better recycling options as well as creative examples of repurposing discarded packaging. For example, I know some companies are turning flexible packaging into material for roads.
At Yaxin, we are testing our own recyclable packaging options, which includes making sure it works well with our printing and other processes. But until consumers can put this packaging into curbside recycling, much of it will end up in the ground.
We have tried compostable packaging but found it to be a poor environmental option. The biggest issue is it breaks down into a gas form, which is bad for the environment. Corn based products are also not viable options since they compete with food for livestock. So, for now, we're focused on recycling and repurposing options, and that's where I see the biggest advancements coming from.
How have increased U.S. tariffs on some Chinese products impacted your business?
We've seen tariff increases of about 22% this year. But since we own our factory, we've only had to pass about half of that cost along to our clients. As I mentioned, we always save our clients between 30% and 80%, and even with the tariffs they still get packaging and printing options that are limited in the U.S., so it remains a great value.
The tariffs have created some fear and uncertainty though, and that's affected us a bit because some clients assume the tariffs make packaging from China more expensive. But that's not the case. Fortunately, the additional scheduled tariffs don't affect our products.
Many people don't know that 53% of all flexible packaging comes from China. The U.S. doesn't have the capacity to meet demand, so we'll continue to have to import packaging from other parts of the world, and China will continue to lead the way in that.