February 19, 2019 · by Scott Hohensinner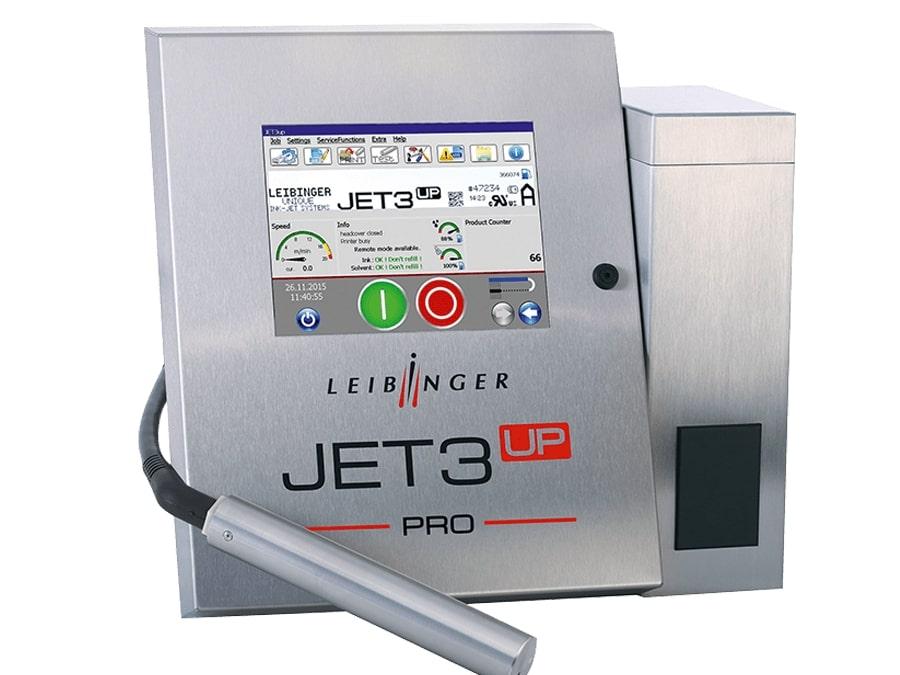 Selecting the right imprinter for your business can help you save money, ensure quality and consistency, and even make your warehouse space more efficient. But how do you choose the right system? To help answer that question, we spoke with Jan Visser, Leibinger Vice President and General Manager, Americas, about the benefits of continuous inkjet for coding and why it's always a good idea to give equipment a test drive before committing to a system.
Why do you recommend continuous inkjet (CIJ) over other coding methods?
CIJ is ultra-flexible when it comes to application fit. It's a "non-contact" form of coding, which means the print head can be a distance away from the substrate. This allows for very flexible coding, especially if the substrate is curved or in a non-consistent position towards the print head (like bumping around on a conveyor).
For many technologies, material handling needs to be extremely precise. CIJ is more forgiving, which makes it a good coding fit for many applications and substrates. In addition, there is no coding technology with more available inks than ours. This makes it easy to find the perfect ink for your application. Leibinger offers a portfolio of 100 inks. If we don't have it, it likely can't be done.
Plus, our running cost of the equipment is extremely attractive because of our efficient use of fluids (such as inks and solvents), our low maintenance design and German-engineered durability of key components. All that said, one size does not fit all. There are unique applications that may need technologies other than CIJ.
What are Leibinger's primary markets?
Our largest market is food and beverage. Walk the isle of your local grocery store and you'll see many of the best-known brands use Leibinger equipment for their coding and marking needs. We also have a strong presence in wire and cable. We code small electrical wires to large cables used in the automotive and aerospace industries. We also have customers in the building material industry that print on base boards and crown molding, the edge of floor tiles, plumbing fittings, cement boards, and buckets of joint compound.
What is the best way for end users to compare the various systems you offer?
At Leibinger, we say "seeing is believing." I can talk to you for days about why our equipment is the most reliable in the industry, but put it online and run if for a week or two and see for yourself. Trials are a common way to evaluate which equipment works best. But as you evaluate, make sure you do so under real life circumstances.
Letting a printer run for a week is easy but that's not real life at the plant. Run it for a few days, then let it sit idle for three days to simulate a long weekend. Then see if it starts up without issues on day four. Or simulate a power outage by unplugging the printer from the wall without actually shutting it down. Or move it around from line to line to see how easy or hard it is to get it dialed-in again. If you give your equipment a realistic test, you'll see the immediate benefits of Leibinger inkjet.
Our slogan is "Stop Cleaning. Start Coding." For those who think that's not possible, we'll gladly demonstrate our technology at their facility and let them see for themselves.
How does Leibinger go to market?
For the last decade, Leibinger has been committed to a network of authorized and certified distributor partners. At our facilities in Wisconsin, we provide training to our partners free of charge and have several programs available to support and develop our partners. In addition, we have a fully staffed helpdesk in place to support our channels. At our Wisconsin headquarters we stock hundreds of parts and components as well as inks and solvents. Our distributor partners stock the most common inventory to ensure quick response times for customers.
What makes Leibinger unique?
Three main things set us apart. First, our unique print head design and our ink circuit and hydraulics design. In traditional CIJ units, when the printer is idle the ink is exposed to air and dries out. This requires the continuous and messy process of removing dried ink stuck to sensitive electronics and the tiny orifice of the nozzle plate. In our design, the nozzle is sealed airtight.
For comparison, think of a can of paint. After you use some paint, you seal the lid so it remains fluid inside and ready the next time you need it. It's the same with our equipment — the nozzle is automatically opened and the printer is ready to go when you need it, then closes when you don't. This technology is called Sealtronic and is unique to Leibinger. Where other brands require hourly, daily, or weekly cleaning, our equipment typically runs for months without any need for intervention.
Second, our ink circuit, which is the heart of the system, is highly reliable. We've eliminated the need for gear pumps that have a limited life span, so there is no maintenance on the unit other than annual preventative maintenance. We've created a thermal barrier between our electronics and ink delivery system that keeps the overall temperature of our systems low, which reduces the use of ink and solvent.
Third, our energy efficient electronics eliminate the need for cooling fans, which makes them extremely energy efficient. In operation, our equipment uses 30 watts or less to run, which is less than what's needed to light an average bulb.
How does Leibinger stay at the forefront of technology research and advancement?
We continue to invest heavily in research and development to help increase productivity and reduce costs for our clients. Where others have chosen to outsource manufacturing to low-wage countries, we've done the opposite.
Leibinger manufactures components at our facility in Germany. Bringing more and more components in house helps us continuously improve the quality of our technology while keeping our costs down. This also allows us to be ultra-competitive.
Most recently, we've made significant investments in an automated manufacturing line for our stainless steel cabinet production. This process, like many others in the factory is fully automated with robotics keeping the small tolerances we strive for. It allows us to offer our customers flawless reliability and consistency year after year.
Of course, we're always reviewing the market for new technologies and better ways of doing things. As a privately owned, financially healthy organization, we will not hesitate to make further investments as we see fit.